WERE YOU NAMED AFTER ANYONE? Yes~ My middle name was my one uncles first name
WHEN WAS THE LAST TIME YOU CRIED?Sunday
DO YOU LIKE YOUR HANDWRITING? I like my handwriting but I don't write very neat.
WHAT IS YOUR FAVORITE LUNCHMEAT? bolagna
DO YOU HAVE KIDS ? Nope I think maybe I'll wait like 10-15 years!
IF YOU WERE ANOTHER PERSON, WOULD YOU BE FRIENDS WITH YOU? Probably
DO YOU USE SARCASM ALOT? definitely~ Not very often
DO YOU STILL HAVE YOUR TONSILS? yes
WOULD YOU BUNGEE JUMP? Yes~ but I am sure I would be scared but I like to try some new things
WHAT IS YOUR FAVORITE CEREAL? granola
DO YOU UNTIE YOUR SHOES WHEN YOU TAKE THEM OFF? nope but I don't like to wear sneakers very often and that is why.
DO YOU THINK YOU ARE STRONG? Well I have to say~ I do have some muscles in my right arm but I think that is only because I write alot!
WHAT IS YOUR FAVORITE ICE CREAM? I like vanilla
WHAT IS THE FIRST THING YOU NOTICE ABOUT PEOPLE? I probably notice if they look nice or kinda mean.
RED OR PINK? red
WHAT IS THE LEAST FAVORITE THING ABOUT YOURSELF? I dunno
WHO DO YOU MISS THE MOST? my great-grandparents
WHAT WAS THE LAST THING YOU ATE? hot dogs
IF YOU WERE A CRAYON, WHAT COLOR WOULD YOU BE? dark blue
FAVORITE SMELLS? I like the smell of Ian when he gets out of the bath tub. MMMM... baby!
WHO WAS THE LAST PERSON YOU TALKED TO ON THE PHONE? My best friend Hannah
FAVORITE SPORTS TO WATCH? Well to watch Basketball~ To play soccer
HAIR COLOR? red
EYE COLOR? blue
DO YOU WEAR CONTACTS? Nope glasses
FAVORITE FOOD? Pizza
SCARY MOVIES OR HAPPY ENDINGS? I hate scary movies so definitaly happy endings
LAST MOVIE YOU WATCHED? Charlotte's Web
SUMMER OR WINTER? Summer, definitely~ I hate winter!
HUGS OR KISSES? Hugs
WHAT BOOK ARE YOU READING NOW? " Loves Follows the Heart" by June Masters Bacher
WHAT DID YOU WATCH ON TV LAST NIGHT? the Brady Bunch
WHAT IS THE FURTHEST YOU HAVE BEEN FROM HOME? Florida
DO YOU HAVE A SPECIAL TALENT? Well I used to be able to walk on my toes. I know it is weird but now I weight to much and didn't keep it up so I can't do it anymore!
WHERE WERE YOU BORN? Pennsylvania
Now for Pictures!
Here is Gracie (6) on Easter Sunday at my Mimi's!
Here is me and Ian!

Here is me and Gracie and Ian with our friend Eli

This is me and one of my good friends Suzanna! We were angels in the Easter play at Church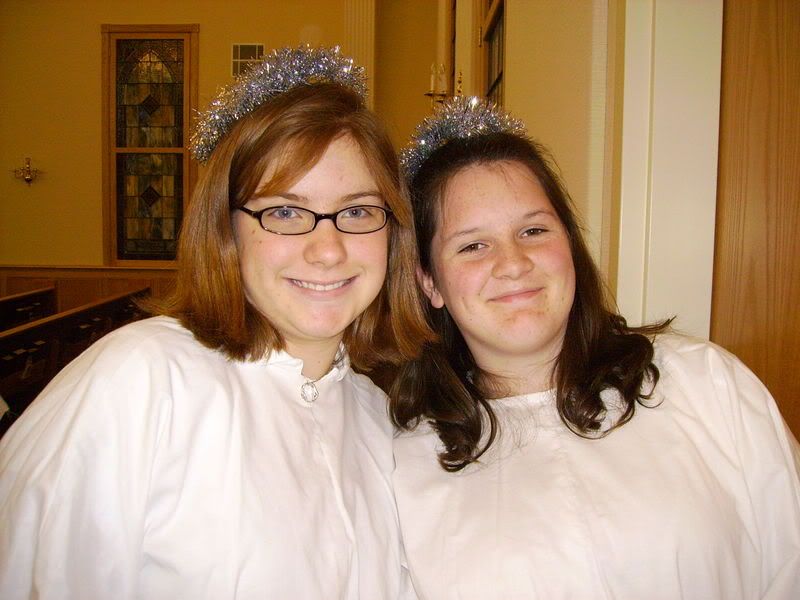 That is all the pictures I can upload at the moment~ it won't let me upload the one picture I want to~ that I want to~ That is ok!
God Bless All,
Ashley