Hello~ it has been a long time since I got a chance to come on to my blog. We were away all weekend.
Thursday morning we left to head to Ohio to meet some friends. We stayed with them overnight~ and had a really good time~ here are a few pictures that we got there:
This one is of me, holding there youngest~ he will be one in the middle of November:
Here is one of me reading stories to their oldest daughter and son:


Here is one of the whole gang of us kids~ 9 of us! Boy was that hard to get a good picture~ they just kept taking until they got a good one!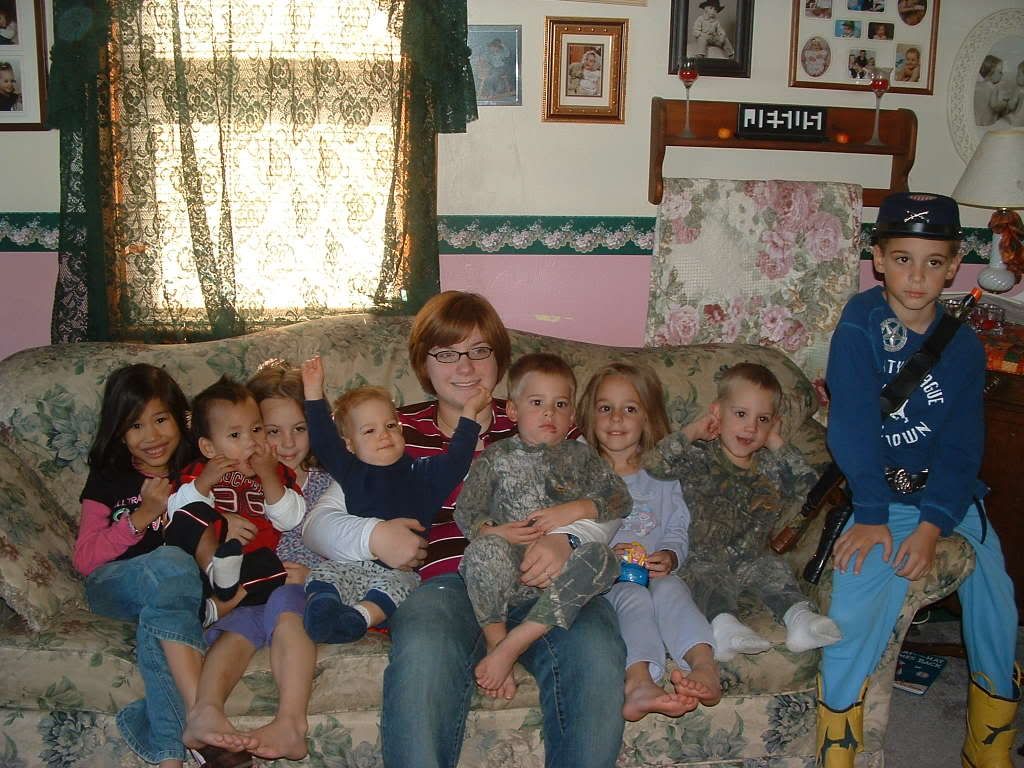 We had a really good time at our friends house, but we had to leave the next morning~ so we could head to Kentucky~ to meet some more friends~ we were all going to meet up there, and go to the Creation Museum together the next day. There was a whole gang of us~ twenty six I think. My penpal was one of those, and I was so excited to meet her. We had a wonderful time together~ Here are some pictures!
Here is a picture of the whole gang of kids: I am in the back~ in the purple shirt.

Here are a few of me and my penpal Taylor: I didn't like this one too much, because I had " horns", so I got mom to take another one.

Here is me and Taylor ( notice that I don't have horns)
Here is one of our family outside of the Creation Museum:

Here is one of the whole group~ all twenty six of us:

We stayed at a hotel with an indoor pool~ so we got to swim~ We had cannonball contests ( I am not very good, LOL), and just had fun splashing each other.
My family had already met some of the people that came along, and I had some pictures of them on my blog before, so if they look familier~ that is why! But most of them we hadn't met before.
Well~ that is all that I really have to say, today, was just another school day~ it was kind of hard to get back into it, since I had been gone for a few days!
God Bless,
Ashley